Live Stream Viewing Retreat - January 2023
If you're ready for 2023 to be the best year for your business yet, then you're in for a treat. This January (1/11/23 – 1/15/23), our friends at Flower Of Youth are hosting an immersive viewing retreat for Tony Robbins "Business Mastery".
Join us as we embark on this comprehensive coaching experience, learning entrepreneurial etiquette and best business practices from Tony Robbins and his hand selected team of support specialists. Here's the link to Tony's site to learn more about the Business Mastery event.
Tony owns over 100 businesses, generating $7 Billion + annually. His management, marketing, and operational strategies aren't just field tested, they've been distilled down to a science. In this 5 day seminar, Tony shares his "secrets" to success through the art of business. 
We can't wait to learn from one of the very best multi-stream wealth creation masterminds to have ever lived.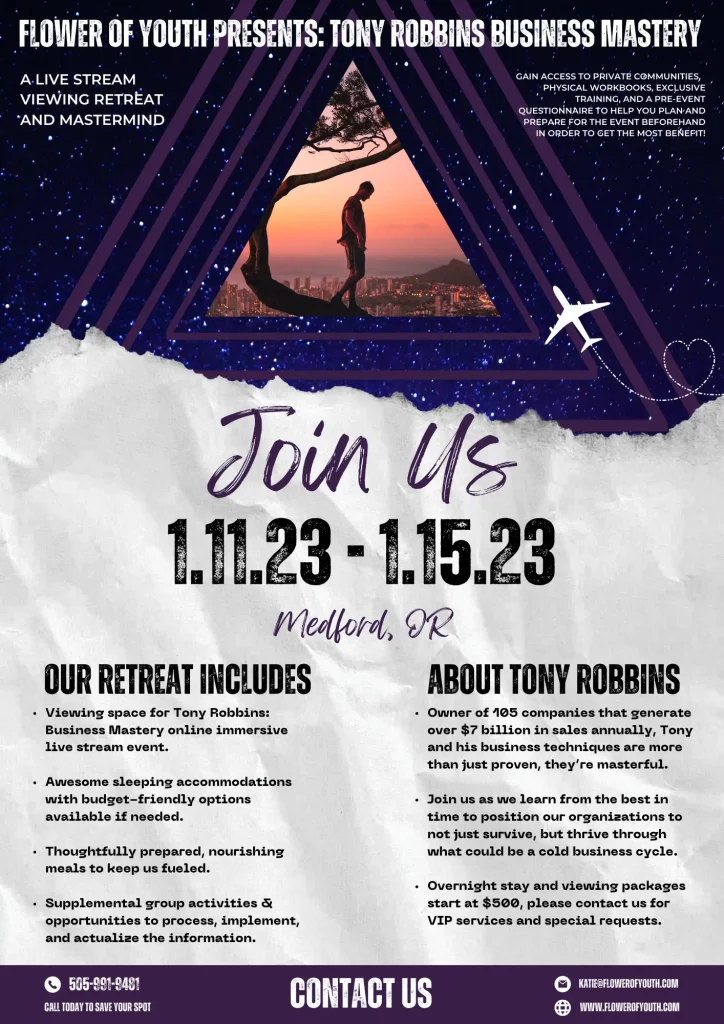 Sadly, most of Tony's events are exclusively offered virtually since the pandemic. In hopes that his students can still get an authentic experience of the event – one driven by intensity and engagement – he's asked his more veteran supporters to host retreat style gatherings for their communities. 
Accordingly, we're renting a awesome AirBnB in Medford, Oregon this year so our personal and professional networks can gather. The living room will be transformed into an auditorium style room, so we can all sit together, listen to the live-stream, and interact together during break-out rooms and group exercises. 
Our retreat is all inclusive: housing, food, and access to training materials are all baked in. For those who want a private sleeping situation can purchase a solo room for $1,111. Couples who intend to share a room will be able to have their privacy for $700 each ($1,400 total). And for those of us who are happy to bunk up, our basic share-room package goes for $500. 
Yep, you read that right… 5 full days (~12 hours) of Tony Robbins training, 5 nights of room & board, 3 healthy meals a day, and more for only $500. You're welcome. Of course, we're not doing this to make any money, all funds collected go exclusively towards covering our costs.  
For more information about how you can hop aboard and start your year on a high note, give us a call at 505-331-2677.